YOU CAN START YOUR REGISTRATION PROCESS BY CLICKING THE LINK ABOVE OR HERE AND FOLLOW THE STEPS INDICATED BELOW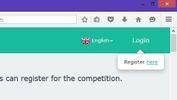 1. Choose ENGLISH language (using the menu with the flag)
2. Move your mouse pointer on LOGIN sign in the upper right part of the page, then register yourself by clicking
the appearing REGISTER HERE sign (as shown on the left)
3. After registration you should log in by using your user name and password given through the registration process
4. Choose Event Calendar from the menu
5. Choose the WDSF Hungarian Dance Open Competition event from the list of competitions which to you'd like to make your entries
6. Click on online entry and select your competition(s) and make your entry
IMPORTANT INFORMATION! HUNGARIAN COUPLES SHOULD MAKE THEIR ENTRIES THROUGH THEIR DANCECLUBS!
COMPETITION ENTRY 

FEES ON EACH COMPETITION DAY

 PAID ON 21st AND 22nd MARCH 2020

1st WDSF 

OPEN

 

Competitio

n /Competition day

  

 

35

 EUR

/couple/competition/day

All addtitional WDSF 

OPEN

 

/

Competition day

35 EUR

/couple/competition/day
ENTRY FEES can be pre-paid by bank transfer after REGISTRATION but it will be also possible to pay the entry fees on the spot. 
PLEASE FIND ALL NECESSARY INFORMATION FOR BANK TRANSFER BELOW
Name of account owner: MAGYAR TÁNCSPORT SZAKSZÖVETSÉG
Address of account owner: H-1146 BUDAPEST, ISTVÁNMEZEI ÚT 1-3.
IBAN: HU69 1170 9002 2001 3671 0000 0000
BIC (SWIFT) Code: OTPVHUHB
Name of Bank:OTP BANK NYRT. BUDAPESTI RÉGIÓ
Address of Bank: H-1051 BUDAPEST, NÁDOR UTCA 21.
IMPORTANT INFORMATION!
For reference, please use your WDSF MIN when completing your bank transfer!
TO GET TO ONLINE REGISTRATION SYSTEM AND START YOUR REGISTRATION CLICK HERE
Please make sure that your entries are made
BEFORE 20th MARCH 2020

 since online registration system will be closed that day!